Announcing in this eNewsletter


 New Free Orin Audio Soul Alignment Meditation for

Living Your Life Purpose
≈
Two new graduate light body seminars in April 2017
---

 Orin's New Audio Meditation: 
Aligning with Your Soul to 
Express Love as Your Purpose
Click on the picture above or

Go here
 to listen (stream or download) and read transcript. 
Orin is presenting a series of free audio guided meditations to assist you in transforming your life and raising your vibration through aligning with the energies of your soul, divine Self, Divine Will, and Star Energies. Orin feels these are among the most important alignments you can make to live your purpose and awaken spiritually. Available free for a limited time; we suggest you download the meditation if you want to keep it.
---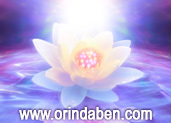 Greetings from Orin! 
I am creating four new alignment meditations to assist you in 
Living Your Life Purpose
. 
The first meditation in this series, available now, will assist you in aligning with your soul to experience more love, compassion, and forgiveness for yourself and others.
As you blend your heart center with your soul's heart center, a beautiful note of love flows out from you, a pure, harmonious, loving, magnetic energy that heals past hurts and lifts all life around you. You can use this meditation and the process in it throughout the day whenever you want to feel more love. 

---
Announcing Two New 3-day Graduate Light Body Seminars** By Duane and DaBen
The theme in both is playing bigger, living your purpose, and making a difference.



Luminous Body Seminar
: 
Exploring the Immense Scope of Your Life
 April 21-23, 2017, followed by:
Living the Light Body Seminar
: 
Expanding Your Role in the World
 April 24-26, 2017 in Medford, Oregon, USA
These seminars are offered back-to-back and are work together, as well as can be taken separately.
---


Expand Your Potential with Orin's and DaBen's Audio Courses 
Click on these links to: Attract 
Abundance
 • Link with a 
Guide
 • 
Clear Blockages
  • 
Awaken Your Light Body
• 
Orin's 
Divine Self Series
 • 
Psychic Abilities
 • 
Loving 
Relationships
 • 
Self-Love
 • Illumined 
Mind
 • 
Inner Peace
 • Physical 
Well-Being
 • 
Life Purpose
 • Align with 
Divine Will


---
Free on our website - we invite you to visit often!