New Free Orin Audio Meditation to
Stay in Your Center Around Other People

Click on the picture above or 

 Go here
 to listen (stream or download) and read transcript. 
(Available free for a limited time)
---

Greetings from Orin! I have created a meditation to assist you in aligning with star energy. As you link with star energy you can more easily stay clear and balanced, connected to higher energies, and maintain an open heart. You can evolve your ability to love, becoming a source of love and peace for everyone around you.
Note: You will also find 3 additional guided meditations at the link above for staying in your center around other people. 
 
---

Ori

n's Vision courses, 
Vision: 
Seeing and Sensing Subtle Energies
 and Vision: 
Creating Your Highest Future
. 
The Vision courses help increase your ability to accurately translate the star energy you contact into thoughts, ideas, insights, revelations, activities, forms, circumstances, relationships, and new conditions so that what you create will best unfold these higher energies and all the opportunities they offer. 
---
Orin has made 4 courses in the Millennium Journeys albums to assist you in aligning with the higher light that is coming to humanity from star energies. In the first volume, 
Increasing Your Inner Light
, you work with star energies to expand your inner light, and thus change what you draw to you.
---
---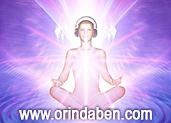 Expand Your Potential with Orin's and DaBen's Audio Courses 
Click on these links to: Attract 
Abundance
 • Link with a 
Guide
 • 
Clear Blockages
  • 
Awaken Your Light Body
• 
Orin's 
Divine Self Series
 • 
Psychic Abilities
 • Loving
Relationships
 • 
Self-Love
 • Illumined 
Mind
 • 
Inner Peace
 • Physical 
Well-Being
 • 
Life Purpose
 • Align with 
Divine Will
---
Free on our website - we invite you to visit often!
---
This eNewsletter is being sent to you by Sanaya and Duane at LuminEssence because you have sent us your Email address with permission to receive online eNewsletters from us, or because a friend has forwarded it to you.
Receiving this eNewsletter from a friend? You can subscribe to future eNewsletters.
Keep your Email address updated:
 If you wish to continue to receive these occasional eNewsletters, please let us know if you change your Email address. You can do this in the 
Member's Area
 by logging in with your original email, and then using the link "Change Email Address Associated with This Account" to enter your new email address. Or, you can email us.
Unsubscribe: We will be sending you occasional eNewsletters (these are not the same as our printed newsletter) to let you know about free audio, courses, and events. If you do not wish to receive Orin and DaBen's eNewsletters, simply click the unsubscribe button below and your name will be taken off our email list.
Privacy policy: Your privacy is very important to us. We do not sell or rent your name, email address, or any other information about you to anyone.